Some days, I just feel like I need to share with the world my favorite products. Why? Because I can. And, let's be real, when you find
that product
, you know, the perfect one-cheap, awesome, and cheap-you feel like bragging about it. And the price. It's what women do.
So here's my top three drug store finds. Enjoy! No particular order, so let's do tha thing.
1) John Freida's
full REPAIR line
. I only have the conditioner and the root lift foam, but lemme tell ya something: THIS STUFF WORKS. As someone who has probably three times as much hair as any normal person, I'm always on the lookout for good conditioner. I grabbed this on a whim the last time I needed some, and it is absolute perfection. It really does repair your hair, making it smoother and softer. The instructions say for an "intense repair" leave in for 2-5 minutes...well, I always thought that's how long you were supposed to leave it in anyway, so I guess I get intense repair every time! I don't hate it. As far as the root lift foam, mine seems a bit watery, so I shake it up before I use it and blow dry my hair flipped over. It adds a lot of lift the day of, but falls when I sleep on it. But I guess that's to be expected! But at under $6 dollars a piece (I believe), you really can't go wrong with these!
2) Neutrogena's
Oil Free Acne Stress Control
Triple-Action Toner. I've never had intense, certifiable acne, but I have struggled the past few years with the more than occasional blemish. I think my skin became acclimated to my usual system that had worked high school through the majority of college (Proactiv), but it was time for a change. I'd tried almost every drug-store brand you can think of and nothing was working. Honestly, I grabbed this out of frustration; I was tired of the creams that proclaimed they worked miracles not working, so I decided to try a toner.
Hello!
Where has this stuff been all my life? It is absolutely amazing. I use it twice a day on my most problem areas and it is marvelous. During the winter I would recommend lightly swiping on moisturizer after, simply because it can dry out your skin. I believe this is under $6 as well! A steal, if you ask me.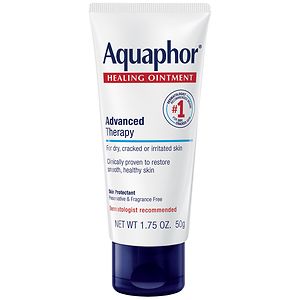 3) Aquaphor
Healing Ointment
. Honestly, I can't ever remember
not
using this. My mom used to work as a nurse and would bring home samples from medical reps, and we ALWAYS had a constant supply of Aquaphor. It was like our Windex (
My Big Fat Greek Wedding
, anyone?), we'd use it on everything; chapped lips, dry skin, cuts...like I said, everything. I began using it at night on my lips because they tend to dry out easily (fyi? My bad) and those flavored chapsticks just weren't cutting it. I would tell you how much it costs but, honestly, I haven't had to buy it in about 4 years, I think. I'm tellin' ya, a little bit goes a long way! I have the 1.75oz tube and am looking at needing a new one in a few months. So even if it's over $6, I can
promise
you it's worth it! Plus, it isn't scented or flavored, which I like. Doesn't make you smell like some kind of plastic fruit.
So those are just a few of my favorites, but I'll probably post soon! If you have any other drugstore recommendations (especially makeup! I'm always on the lookout for cheap makeup for experimenting!) let me know!